Pot smokers love their bong more than anything else. Bong and pipes are made of breakable glass and therefore need extra care. For safe storage and transportation, you will need the best bong bag. Bong bags are available in a variety of sizes, styles and offer different levels of protection.
They use different types of foam padding and cushions, making them shockproof. Smell-proof technology is another critical part of bong bags. This feature lets you store and transport your weed accessories with discretion and privacy. This article reviews the ten best smell-proof bong bags you can buy in 2021. To find the best smell-proof bong bang for your treasured weed accessory, give a read to this article.
Ten Best Smell Proof Bong Bags
1. Skunk Sidekick Smell Proof Case
Skunk sidekick smell-proof case features top-notch padding and a concentrated activated technology, making it one of the best bong bags. It is a small carrying case that can fit a mini-bong or other accessories like a short pipe, bubbler, or grinder. The bag uses an adjustable shoulder strap for easy and convenient transportation.
This bag is beautifully designed to fit all your precious accessories in an organized manner. The interior space is divided by velcro divides. Plus, there are mesh pockets on both inside and outside bags for additional storage.
The bag comes with a waterproof zipper with a combo lock for added protection and safety. It uses a highly concentrated activated charcoal lining that locks and absorbs all the odors. The smell-proof technology used in this bag is independently tested and proved to be 100% odor-proof.
Pros
100% odor-proof carbon filters
Customizable storage space
Feature an adjustable strap
Cons
It cannot accommodate bongs taller than 8."
Skunk sidekick odor-proof case lets you store and transport the mini-bongs, herbs, bubblers, small pipes, and grinders. The bag features a fantastic design with an adjustable shoulder strap customizable interior. All these features help it standout as one of the best smell proof bong bags.
2. Cloudten Slim Airtight Smell Proof Case
Cloudten slim airtight smell proof case is the best option if you want to transport your bongs and pipes
over long distances with safety and discretion. This smell-proof case features rugged construction and is highly shockproof and impact resistance.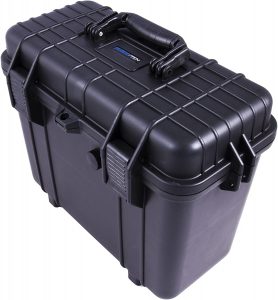 This case uses premium quality composite injection plastic and can withstand rough use, impact and pressure. This case is ideal for bongs of 12-inches or less and can be used for long-distance transportation.
The most loved part of this shockproof bong case is its premium padding inside. This padding ensures the safety of your precious bongs, pipes, and related accessories. The good news is that the storage space of this bag is customizable. It includes many foam pads that let you create different compartments for the storage of additional accessories.
Plus, this bag is completely waterproof and smell proof. The bag uses waterproof and airtight seals that don't let the odors escape out of the bag. This bag doesn't use carbon lining, so it cannot filter out the odors like the bags having activated carbon lining. Plus, there are two lockable latch closures to keep your gear safe and secure. It also features a rubberized handle on the top for easy handling and transportation.
Pros
Shock-proof and durable
Thick foam padding
Customizable storage
Cloudten smell-proof case is ideal for 12-inch bongs and pipes. It can be used for safe and discrete transportation of bongs and related accessories. With its superior plastic construction and thick-foam padding, the bag is the most shockproof bag on the list.
3. Dime Bags Padded Duffle Tube
Dime Bag padded Duffle tube is one of the best smell-proof bong bags you can buy in 2021. This model can fit the bongs as tall as 17 inches. The best part of this bag is its stylish, durable, and eco-friendly build quality. It uses hempster material, a blend of hemp and polyester.
This material is eco-friendly and durable as well. Its color doesn't fade away with time, and it is also highly resistant to ripping and tearing when subjected to rough use. The bag's interior is fully padded, making it highly shock-absorbant. Its top-quality padding and rubber zipper let you store and transport the delicate glass and other accessories safely.
Also, it includes a smell-proof baggie inside that absorbs all the odors and helps in safe and discreet storage and transportation. However, some people prefer carbon-lining instead of smell-proof baggies for bong storage and transport. Additionally, the "dime bag" logo is made of velcro, so you can remove it or put it on some hidden corner if you love discretion.
Pros
Removable "Dime Bag" logo
Can accommodate big bongs
High-quality padding and zipper
Dime Bags padded duffle tube is a spacious and high-quality product that combines durability, style, and performance. The bag uses eco-friendly hempster material to reduce your impact on the environment and ensure reliability and durability.
4. Skunk Sling Smell Proof Bag
Skunk sling messenger bags can accommodate the bongs with a maximum height of 13-inches. This is a smell-proof bong bag that uses trusted carbon filter lining. It has multiple padded compartments that help you store various accessories in an organized way.
This bag has an adjustable shoulder strap and crossbody straps so you can easily carry your long bong while biking around the town or hiking. This bong band features durable construction with a waterproof coating outside.
Plus, it has a waterproof zipper with combination locks that ensures the protection of your treasured gear and delicate glass pieces. This bag uses the finest carbon lining that filters all the odors for safe and discreet transportation. The exterior pocket also uses carbon lining for smell-proofing.
Pros
Carbon filter lining
Crossbody and shoulder straps
Waterproof zipper
Cons
Strap design is only for right-handed people
A Skunk sling bong bag with an adjustable crossbody and shoulder straps let you transport your delicate glass pieces over long distances. Its waterproof zipper and trusted carbon filter smell-proof technology make it a reliable and trusted option.
5. Dime Bags Padded Discreet Protective Hemp Backpack
Dime bong bags are popular and trusted because of the quality and style they offer. Dime Bags' backpack is another quality product that lets you store and transport bong and related accessories safely and securely. This bag uses Dime Bag's signature hempster fabric. This fabric is a blend of polyester and hemp that won't tear or rip no matter how roughly you handle it.
Plus, this is an eco-friendly material that helps you reduce your impact on the environment. As it comes in backpack style, it allows you to carry it handsfree, and therefore it is ideal for biking and hiking.
Additionally, the interior pockets are equipped with top-notch removable pudding, making it completely shockproof. You can store all your treasured gear, including delicate glass pieces, fearlessly. You can remove the padding also if you want to create more space.
Also, there is an exterior mesh pocket for bottles and personal accessories like a charger or headphones. It uses a removable Dime Bags logo, making it an excellent choice for people who prefer discretion. Although it doesn't come with a smell-proof carbon lining, it has a removable smell-proof baggie instead.
Pros
Removable "Dime Bags" logo
Backpack style for easy transport
Removable padding for extra storage
Dime backpack-style bong bag is an excellent choice for people who love to carry bongs and related accessories on adventures. It can also be converted into a duffle type for convenient storage. Plus, eco-friendly and durable construction makes it one of the finest bong bags on the market.
6. Krender Upgraded Waterproof Smell Proof Bag
If you love carrying your bubbler or pipe with you on water-related adventures like boating or kayaking, you should have a waterproof bong case with you. Krender waterproof and smell-proof, case is the best option for you. This bag's dimensions are 8.3 x 6 x 3.5", revealing that this bag can only accommodate mini-bongs or bubblers.
This bag uses a premium quality 1680D material that makes it waterproof and robust enough to withstand harsh environments and rough use. Additionally, this casing contains the activated carbon lining inside, making it completely smell proof. The company claims that this product's smell-proof technology has passed the dog test; therefore, you can trust it.
The most impressive part of this bag is its customizable storage. The bag comes with removable dividers that let you keep the pipe, herbs, grinders, and other accessories in an organized manner. Furthermore, a reliable rubber zipper and combination locks ensure the safety and security of your goods.
Pros
Waterproof outer shell
Dog-tested smell-proof technology
Customizable storage space
Cons
Not ideal for bongs taller than 9-inches
If you are on the lookout for a waterproof and smell-proof casing for your mini-bong or bubbler, the Krender bong bag is the best option for you. Its tested and proven smell-proof technology lets you transport the bongs and herbs safely and securely.
7. Skunk Backpack Rogue – Smell Proof Bong Bag
Skunk backpack rouge is the best bag for smokers on the go. This smell-proof backpack is an ideal choice for people who love carrying their bong while hiking or on different adventures. This bong bag comes in a convenient backpack style and features durable rip-proof construction.
This backpack comes with multiple enclosures and side pockets, where you can organize your things your way. The two main zipper pockets are waterproof, where you can keep your precious herbs and glass pieces. Plus, there is an additional laptop sleeve and external mesh pockets for extra storage. This space division makes this bag multi-purpose.
The feature that makes this bag best for bong and pipes is its proven smell-proof technology. The bag uses a full potency carbon filter thermal lining. This lining not only traps the odor inside but also reduces the smells by absorbing it. This activated carbon lining keeps your bag fresh and breathable, and you can keep accessories in the bag also. The bag has 20"x12"x6' dimensions, which means it can accommodate oversized bongs like 16-ich or even more.
Pros
Adjustable height
Smell proof carbon lining
Multiple pockets
Easy to carry backpack style
Skunk backpack is one of the most trusted and reliable bongs on the market. With its well-organized storage space and proven smell-proof technology, the bag is the best option for smokers on the go.
8. Cali Crusher 100% Smell Proof Backpack
Cali Crusher backpack is a 100% smell-proof bong bag that can accommodate the bong and pipes of different sizes. This bag is the best option for smokers who love traveling with their precious weed accessories. The bag features a rip-proof nylon construction and foam padding inside.
Its storage space is divided by two zipper compartments and a separate laptop sleeve. You can keep your bong and herbs safely in the smell-proof interior of this bag. The bag uses activated carbon lining that keeps the air inside the bag fresh.
The bag's smell-proof technology is tested and proven; therefore, it is the best option for those who love discretion. Additionally, it has adjustable shoulder straps, making it an easy-to-carry backpack. Plus, the combination lock further enhances the security and safety of your gear.
Pros
Rip proof durable material
100% Smell proof
Adjustable shoulder straps
Cali Crusher backpack is another great choice for smokers on the go. With its well-organized storage space and superior interior padding, the bag offers the best value for money. Moreover, its smell-proof carbon lining makes it a great option for bong storage and transportation.
9. MJ Wholesale Skunk 16″ Duffle Tube
MJ wholesale Shunk Duffle tube is another top-pick of the year because of its vast storage cavity and 100% smell-proof technology. This bag can accommodate oversized bongs like 15" tall and 5" wide. Its widener base can also accommodate beaker-type bongs.
It features two interior padded pockets that keep your glass protected. This Duffle tube allows you to transport the delicate bongs over long distances safely. One of its downsides is that it is not suitable for hiking or biking. This is because its padding is not made up to the mark.
The most standout feature of this bag is it's tested and proven smell-proof technology. It uses carbon lining in both interior and exterior pockets, absorbing the odor and keeping the air inside the bag fresh and odor-free. Plus, a rubber-coated zipper gives further protection by not letting the smell escape from the bag.
Pros
Smell-proof carbon lining
It can fit large bongs
Wide base for beaker-type bongs
Cons
Not ideal for hiking and biking
If you are looking for smell-proof and huge bong bags to store your oversized bongs, consider this fantastic product by MJ Wholesale. This duffle tube tightly hugs the bong, and padding inside keeps your delicate bongs safe and secure.
10. Skunk Hybrid Backpack/Duffle Black
If you are looking for a large-capacity smell-proof bong bang for storage and transportation purposes, consider this hybrid backpack and duffle by Skunk Bags. This bag, with dimensions 21x11x9.5-inches, is the most spacious bag on the list. This is a fantastic bag with premium padding inside. The bag can accommodate large size bongs and glass pieces along with their related accessories.
The bag's thick padding inside provides support and cushion to delicate glass pieces keeping them safe and secure. The best part of this bag is its superior construction quality. The bag features anti-rip netting rubber and rugged nylon construction, making it one of the most reliable bong bags on the market.
The bag features two external pockets for extra storage and a velcro carbon cover for safety and protection. Also, the bag is smell-proof. It uses carbon thermal lining. Carbon filters trap the odor molecules keeping the air fresh inside and outside the bag. The bag can be used both in duffle and backpack style and is ideal for bong storage and transportation.
Pros
Spacious
Anti-rip construction
Shockproof padding
Skunk hybrid duffle and backpack is the most spacious bong bag that lets you store and transport large pipes and bongs easily. The bag features an anti-rip, shockproof and smell-proof construction that helps it stand out as the best smell-proof bong bag on the list.
How to Choose The Best Bong Bag?
A smell-proof bong bag is a must-have for bong lovers. If you love carrying bong everywhere, you will need the best bong bag. Also, you need safe and secure storage space for your bong and related accessories in your home. You might be wondering which bag or case fits your needs. Here is a brief guide on factors you must consider before investing in a new bong bag.
Size
The size of the bag is the most critical factor. It is important to look for a bong bag that hugs perfectly to your gear. Too large or too small bags can damage the delicate glass pieces. Bags of different sizes ranging from 8-inches to 18-inch are available. An 18-inch bong bag can accommodate a 17-inch tall pipe. However, there are few bags with adjustable heights, and they are ideal with bongs of different sizes.
Storage Space
Storage space tells how much gear you can put into the bag. If you are carrying other accessories like a bubbler, grinder, or herb with you, you will need additional storage space. Plus, you will occasionally use this bag for other purposes, so you should consider storage space accordingly.
Plus, you should also check for the number of pockets and the division of storage space. More pockets let you keep your gear organized. Additionally, getting a bag with customizable storage space is a real treat. These bags include velcro dividers and removable paddings that allow you to divide the internal space according to your needs.
Style
Bong bags come in different styles like backpacks, cases, duffle style, or compact bags. You should consider the type that suits your needs. For example, if you want to carry a bong while biking or hiking, a backpack style will suit you more than duffle tubes. If you want a bong bag for compact storage of bong and related items, getting a duffle tube is the best option. Additionally, sidekick cases are also an excellent option for transporting bongs over long distances.
Smell-Proof Technology
Smell-proof technology is the most critical part of the bong bags. If you want to transport and store the bong and herbs with discretion, you must have a smell-proof bong bag. Mostly smell-proof bong bags use carbon lining inside. Carbon lining acts as an odor absorbent and doesn't let them get out of the box.
However, some brands claim that their bags are smell-proof, but actually, they are not. Make sure that the bag you buy has a tested and proved odor-proofing feature. Some bags use removable odor-proof baggies instead of carbon lining. You can place the herb and odor-causing materials inside that baggie. However, it is recommended to go for a bong bag that uses an activated carbon lining for long-term use and reliable performance.
Construction Quality
Construction quality is the most important part of any shopping guide, and bong bags also have no exception. Usually, inexpensive bong bangs use low-quality fabrics and padding. These bags rip and tear away when subjected to rough use. Low-quality material can also be harmful to your treasured glass pieces and other accessories.
A bong bang must have top-quality padding inside. Padding makes the bag shock-absorbent and provides a cushion to delicate glass materials. Zipper and locks quality is also crucial as you are supposed to transport the bongs and pipes in these bags. Waterproof zippers and reliable locks are the essential parts of bong bags and cannot be overlooked in any way.
FAQs
Can dogs smell thru smell proof bags?
Smell-proof bags and cases are made airtight so that they don't let smells escape from the bag. But dogs, with their incredible smell and sniff abilities, can even smell through smell-proof bags. However, some smell-proof bags use premium quality smell filters and have passed the dog test also.
What makes a bag smell proof?
Smell-proof bags or cases use carbon filters or activated charcoal linings. These filters trap the odor molecules making the bags smell proof. Some bags use air-tight seals and smell proof baggies also.
How do you transport a bong?
You can transport bongs by packing them in shockproof bong bags. These bags are made shockproof and impact resistant by a thick foam padding inside. The padding provides support and cushion to the delicate glass for safe and secure transportation.
Final Thoughts
A smell-proof bong bag is a must-have item for people who smoke pot. If you don't want to end up dealing with broken pieces of glass, you need to buy a smell-proof and shockproof bong bag.
Here are our top three picks.
Dime Bags Padded Duffle Tube for its eco-friendly construction, big size, removable "Dime" logo, and superior padding.
Cloudten Slim Airtight Smell Proof Case for its customizable storage, shockproof construction, superior padding, and rubber grip handle
Skunk Hybrid Backpack/Duffle Black for its interchangeable design, huge storage space, and durable and anti-rip construction
All the bong bags enlisted above are of high quality and offer the best value for money. However, it is crucial to figure out your personal needs to get the best one. It is important to ensure that the smell-proof technology of your bag is tested and proven.