Were you always curious about what a skunk smells like? Or how possibly bad the odor can be? If so, I am sure you are not the only one who wants to know how bad a skunk can smell. And you might also get disappointed that it is found not even outside anywhere except for America.
Skunks are small creatures that almost everyone has seen in various cartoon movies and on national geographic or discovery channels and imagined about their extremely pungent smell. These have two walnut-sized glands present beneath their tail that can eject foul-smelling oily spray up to ten feet, and it can spray continuously for six to seven times.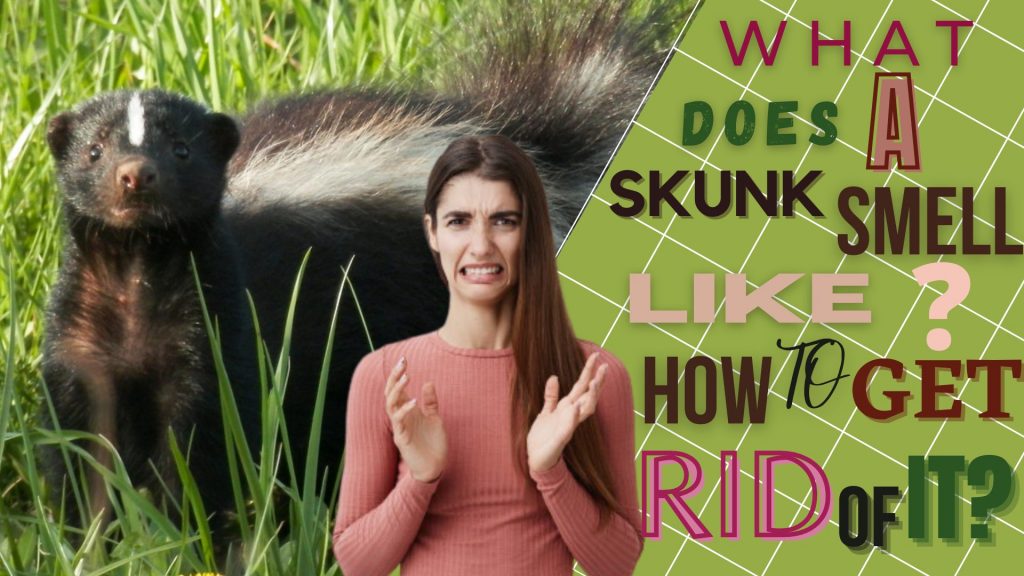 These animals use their anal scent gland as a defensive mechanism against any predator. Initially, they try to give multiple warnings; if they feel threatened, they release their foul smell, which has organic sulfur compound thiol. If a skunk has sprayed your pet, you will observe yellow-colored marks on the fur of the pet animal.
What does a Skunk Smell Like?
If you don't know how skunks smell, well, let me tell you, it is a smelly pot with unholy combinations of bad rotting smells. If you want to know the odor in general, I can certainly tell you that it is extremely pungent, just like that of a sack filled with rotten onions or foul-smelling cabbage. It often smells like burning rubber or some industrial accident, which is not bearable.
Your pets, especially the dogs, can easily be the target of the skunk as they continuously start playing with it, and skunk, in response, after getting threatened, releases its defensive pungent smell. If your dog or even cat smells very bad and has teary eyes, that means that it is because of skunk spray.
You can also notice your pet foaming due to spray; try to wash or rinse their watery eyes and foaming mouth with the help of water or any sterile solution. The intensity of the freshly sprayed pet is indescribable; that smell can easily move into every kind of clothing present around at that time and doesn't get removed easily, no matter how many times you wash the cloth.
How to Get Rid of a Skunk Smell?
If you ask around for DIY remedies for removing skunk smell, lots of people around you will tell you to take a bath or bathe your pet in tomato juice, but trust me, it is just a myth and has no promising results; your pet will continue to smell bad, and you won't be able even to stand the smell. One of the most effective remedies for the skunk smell is the one that I am going to share with you and know that it will be helpful for you as well,
Ingredients
1 cup baking soda
2-3 spoons of dish wash soap
1 quarter cup of 3% Hydrogen Peroxide
Method
Make a smooth mixture by mixing all of the above-described ingredients in a large container such as a bucket, as the mixture will be fuzzy. It would be better if you use a plastic bucket for this purpose. Apply this fizzy mixture to your pet's fur and give it a good massage through this mixture.
Please avoid using this mixture near your pet's eyes as it contains hydrogen peroxide and baking soda, which is dangerous for your eyes. Allow the solution to sit there and do its functioning for 10 -15 minutes, and then rinse it off with the help of lukewarm water.
If your pet has dense fur, you can use this method twice or thrice as long as the smell is not completely removed. If your pet is heavier than normal pets (20lbs), you can use all of the mixtures in the specific requirement according to your pet's weight.
This recipe commonly works for sulfate compounds and thiols, so that it will be very effective for use. This fuzzy mixture can also slightly lighten your pet's fur color, but it's okay as long as he is okay. Make this product small as it is not storable and cannot be contained in any container. As a result, the containers will explode due to gases.
After this treatment, if your pet is still foaming. Clean its mouth with multiple rinses due to the bitterness of the spray, and if the eyes are watering, rinse then preferably with a sterile solution or an eyewash. If those are not present, wash them with the help of tap water. Never use lens solutions for the eyes of your pets.
Similarly, to remove the skunk from clothes you can use a hydrogen peroxide solution or even a commonly found item in the house like white vingar. These solutions work really well in removing all kinds of stubborn odors like weed smell from clothing and so it is sure to do the trick for you as well!
FAQs
What is a skunk smell similar to?
Cannabis is a plant that smells like skunk due to its one of the components known as myrcene, therefore smoke from weed is usually thought of as a similar smell. Skunk also usually smells like rotten onions and cabbage. Moreover, this smell is said to be similar to some industrial explosions.
How long does a skunk smell last?
Skunk smells very bad, and its pungent smell can last upto 3 weeks. You can use baking soda, hydrogen peroxide, and soap methods to completely remove the skunk smell. You will need to take these measurements early as your pet will also be very disturbed due to the smell.
Can the smell of a skunk kill you?
No, the smell of skunk is pungent but certainly not poisonous; it won't harm you in any way except for being extremely bad. However, it can cause nausea and vomiting. It will also be responsible for irritation of the eyes and can cause temporary blindness to your pets.
Conclusion
Suppose you were curious about what the skunk smell like or how pungent it can be. I hope this article will certainly help you with that and you will understand the smell of skunk. And if sadly you have encountered the skunk and are looking for DIY to remove its pungent smell, I am glad that you will find a way through this article as well.